ABLE.Family (Art Based therapies to encourage Longevity in Elderly participants) is a free, web-based, interactive digital gaming platform designed for older adults and their intergenerational family members.  Designed with dementia- and kid-friendly approaches, it seeks to reduce loneliness and isolation while providing fun and meaningful family interaction, during times of separation such as due to the COVID-19 pandemic. The platform is designed by members of McMaster University's Pulse Lab in collaboration with staff and participants of the Alzheimer Society's Minds in Motion program. ABLE.Family provides cognitive and social supports for a wide spectrum of users through memory and arts-based play and interaction. The goal of the project is to address the unique social and cognitive access needs for Older Adults with Dementia (OAD) and their intergenerational family members in a virtual setting.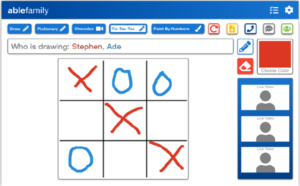 The ABLE.Family platform can be accessed via tablet computer, desktop, or smartphone. Users create a room and can choose from several activities, including tic-tac-toe, watercolour painting, group drawing, charades, and 'pictionary,' among others. Each activity is designed to be accessible to diverse players and scaled to allow minimal or maximum participation and interaction. Both textual and visual symbols are provided for navigation to ensure accessibility based on different preferences.
Players can chat on ABLE.Family while they play without needing to use a different video platform such as zoom.  By clicking a video link, players can use video chat (offered through Jit.si, an open-sourced web conferencing platform). The platform can be easily customized to suit the needs of OAD and their family members. For example, participants can choose a pared down interface with few features to support acces for older adults with dementia and sound effects that may be confusing can be silenced. 
As a research project, ABLE.Family is made possible by diverse lab expertise in critical, feminist, and deeply collaborative disability justice approaches to human-computer interaction. As well, ABLE.Family engages in collective approaches to accessibility by designing for agentic use. In our iterative testing, we consulted throughout development with diverse stakeholders (health professionals, Alzheimer Society staff and participants, etc) to negotiate technology barriers. Uniquely, the platform supports OAD and other intergenerational users to engage procedural memory so that older adults with dementia can return each time, to re-engage with the game play. As well, features (such as the draw/erase functions) are designed with skeuomorphic symbols (looking like real life items) to increase access for a wide spectrum of users. 
The ABLE.Family platform will enter beta testing in Summer 2021. Future developments will utilize machine learning to recognize and predict a wide array of possible movements and gestures to enhance the platform's collective access. 
THE ABLE TEAM:
Dr. Paula Gardner: PI, Asper Research Chair in Communications, Department of Communication Studies and Media Arts
Collaborators:
Dr. Caitlin McArthur: Assistant Professor, School of Physiotherapy, Dalhousie University
Dr. Rong Zheng: Professor, Department of Computing and Software, McMaster University
Dr. Brenda Vrkljan, Professor, Rehabilitation Sciences, McMaster University
Julia Alpin, Creative Movement and Dance Collaborator, Director, Upward Spiral (http://upwardspiral.me/)
Dr. Alexandra Papaioannou: Advisor, Faculty of Medicine and Executive Director, GERAS Centre for Aging Research, McMaster University
Stephen Surlin: Project Coordinator and Creative Technologist, PhD Candidate, Department of Communication and Media Arts , McMaster University
Adekunle Akinyemi, Research Assistant, Interface and User-Centred Design; Master of Engineering/Technology Entrepreneurship, McMaster University
Jess Rauchberg: Research Assistant Research and User-Centred Design, PhD Candidate, Department of Communication and Media Arts, McMaster University
Yujiao Hao: Research Assistant. Data Analytics and Machine Learning, PhD Candidate, Department of Computing and Software, McMaster University