ABLE (Art Based therapies to encourage Longevity in Elderly participants) is an arts-based rehabilitation platform designed in McMaster's Pulse Lab. Using wearable shoe-mounted sensors, the platform enables users to full physiotherapist-prescribed exercises while prompting engaging music and art-based feedback. The goal of the project is to improve functional mobility by challenging lower extremity strength and balance in a multicomponent exercise program that engages users.
The ABLE platform is controlled by a custom-designed app running on a tablet computer. The app allows users to choose an exercise, view tutorial videos and experience auditory and visual feedback while completing the exercise. Additionally, the app enables physiotherapists to customize exercise plans for each participant out of a menu of choices. The tablets can be connected to a television, allowing for better visibility and more control over audio settings.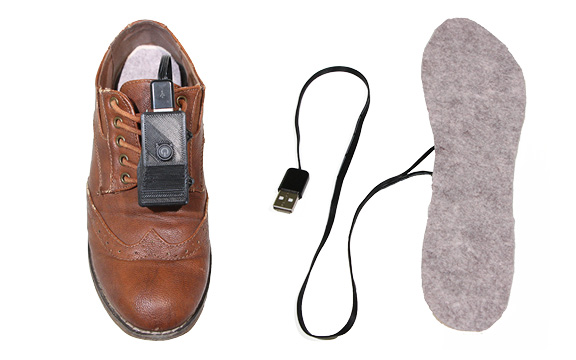 The ABLE sensors consist of two 3D printed plastic modules, one to clip to the top of each shoe and two pressure-sensor insoles, one to wear inside each shoe. The insole sensors track changes in pressure as the user shifts their weight during the exercise while the plastic modules track the movement and location of the user's feet. This data is then sent from the sensors to the ABLE application where it infuences the art and music-based feedback experience.
Currently, ABLE is in its first iteration. Future iterations will focus on adding sensors for the upper extremities, utilizing machine learning to create more responsive design and incorporating voice recognition technologies
PRESENTATIONS
This October, the ABLE team had the opportunity to present at the MIRA Catalyst Grant Networking Session, an event designed to showcase the projects funded by the McMaster Institute for Research on Aging (MIRA). While at the event, the team, including Dr. Paula Gardner, Dr. Rong Zheng, Caitlin McArthur, Stephen Surlin and Adekunle Akinyemi spoke about the ABLE project and networked with other researchers.

THE ABLE TEAM:
Dr. Paula Gardner: Co-PI, Asper Research Chair in Communications, Department of Communication Studies and Multimedia
Dr. Alexandra Papaioannou: Co-PI, Faculty of Medicine and Executive Director, GERAS Centre for Aging Research
Dr. Caitlin McArthur: Postdoctoral Fellow, MScPT PhD, Department of Medicine
Dr. Rong Zheng: Professor, Department ofComputing and Software, Faculty of Engineering
Stephen Surlin: Project Coordinator and Creative Technologist, PhD Candidate in Communications, New Media and Cultural Studies, McMaster University
Adekunle Akinyemi: Research Assistant, Master's Candidate, Engineering Entrepreneurship and Innovation, Faculty of Engineering
Xiaodong Xu: Research Assistant, Master's Candidate, Department of Computer and Software department, Faculty of Engineering
Yujiao Hao: Research Assistant, PhD Candidate, Department of Computer and Software department, Faculty of Engineering
Mairead Stewart: Project Manager, McMaster University Faculty of Humanities
Jessica Belgrave Sookhoo: Research Assistant, Hamilton Health Sciences
Ainsley Smith: Research Student, Department of Life Sciences
ABLE PARTNERS: